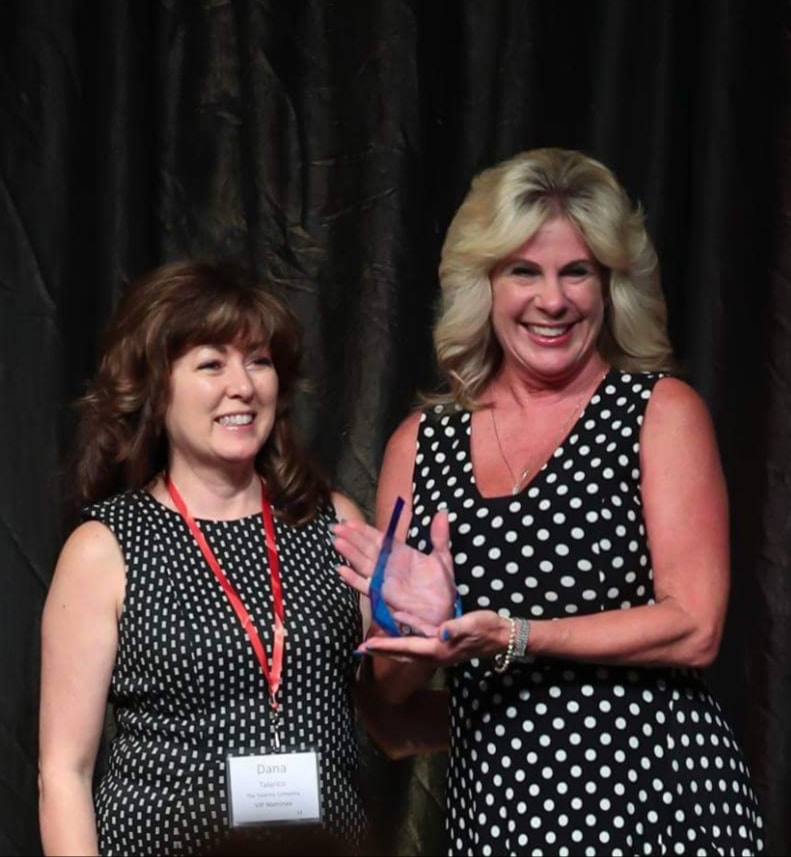 Terri Fisher, president, and owner of 5 Star Talent and Entertainment said she gets challenges all the time.
Chamber honors women in business and recognizes their challenges
Metro North event provides women with space for recognition
Casey Van Divier
Special to Colorado Community Media
But some challenges — such as repelling down a 34-story building for the Cancer League of Colorado — are more memorable than others.
"I don't repel. I don't even know how to put a repel outfit on," said Fisher, who was 58 years old the first time she `went over the edge' to raise money for the Cancer League.
The entrepreneur, who became heavily involved in the charity world in 2010, chose to repel down the building in memory of the friends and family members she has lost to cancer, including her father.
However, the days leading up to the event proved difficult when her daughter had to have an undeveloped lung surgically removed. The operation occurred on a Tuesday.
"And that Friday I'm on the side of the building, and I go `how did I get here?'" she said. "And then I did it again the next year. I don't know why."
That philanthropic work — which she estimates accounts for about 50 percent of her time — led Fisher to receive the Philanthropist Award at the first annual Women of the Metro North event.
This award was one of several presented by the Metro North Chamber of Commerce of Aug. 30 at Brighton's Waymire Dome.
The chamber, in collaboration with the Colorado Women's Chamber of Commerce and several other organizations, put on the event to recognize women in six different categories related to business and leadership.
Incredible women
The evening served as the kickoff event for the Metro North Chamber's Women in Business and Leadership Committee, which began meeting in the spring of this year.
The committee's goal is to provide local women with a business community and space for recognition, said committee member Lauren Dartt, the chamber's director of marketing and digital communications.
The event brought together more than 375 members of the community, and Fisher said it was fun but a little intimidating.
"Being around so many incredible women that day, I'm going `wow,'" Fisher said. "Especially because in my category, there's three mayors and a nun — how do you beat that? It was very shocking, and I felt very blessed to receive the recognition."
Efforts like this one have become increasingly relevant both across the state and nationally, as women fill more high-level business positions slowly but steadily.
According to 2016 data from the Bureau of Labor Statistics, women account for 38.7 percent of self-employed individuals in the US. That's a big increase compared to 1976 when women only comprised 26.8 percent of the self-employed population.
The report also found that while women make up 46.8 percent of the nation's workforce, they account for 51.5 percent of individuals in management, professional and related occupations.
Meanwhile, in Colorado, 29.2 percent of businesses are owned by women, according to the Institute for Women's Policy Research. This rate is slightly higher than the 28.8 percent national average and a slight increase from 2004 when 28 percent of Colorado businesses were owned by women.
Women setting their destinies
According to Mayor Heidi Williams of Thornton, these trends could be the result of women's natural tendencies. She believes that many women are entrepreneurial because they have to set their own destinies, she said.
There's still a lot of room for improvement when it comes to women's wages and business revenue in comparison to their male counterparts, she said.
In her role as the business development manager at the Colorado Women's Chamber of Commerce, she works with her colleagues to help women overcome these struggles. She encourages them to get involved with local government bodies such as the Businesses of Thornton Advisory Commission and to connect with other businesswomen in the area.
"If you're a business owner and you're on your own, you're not getting what you need professionally," Williams said. "It's nice to be around people who understand the challenges of being an entrepreneur."
She suggested that the tight-knit nature of the community and their desire to support one another could be a result of these common challenges.
Kellie Lauth — who received the STEAM Innovator award at the event — knows these challenges well. Like Williams and Fisher, she has not gotten where she is today without facing her share of difficulties.
"I sat in large engineering classes in college and was one of a handful of women in a 250-person auditorium," said the CEO of mindSpark Learning, a nonprofit startup that works with schools to improve curriculums and education.
"Being in the CEO world, I'm always a little bit surprised when I go to events and there's just a handful of us still," she said. "We still have this challenge, and it's a challenge that I love to work on."
That work includes advising the many female students that Lauth reaches through her nonprofit. Just as Williams encourages women in the area to make connections with one another, Lauth urges students to start building their own network of mentors, she said.
In her experience, her greatest resource has been her team of "some of the most courageous and brilliant women on the planet," she said, and the network she has built over the years.
"We need to really support and push each other toward those tremendous goals," she said.
The chamber's event was a big step in that direction, Dartt said, with more than 125 nominations submitted to honor women in the area.
"We've been thrilled that so many women got excited about the event and nominated other women," Dartt said. "There's been so much positive buzz between women in the community."